Blind Great Dane turns on her guide dog companion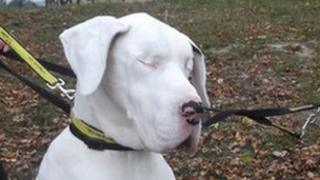 Blind Great Dane Lily is looking for a new home after attacking her guide dog.
The six-year-old and her companion, another Great Dane called Maddison, had been rehomed together after an appeal by the Dogs Trust.
They were adopted by Anne and Len Williams from Nantwich, Cheshire, but were returned to the charity's home at Roden near Shrewsbury.
Mr and Mrs Williams will now keep Maddison, but Lily is at the dogs' home because the two cannot be reconciled.
Charlotte Speedy of the Dogs Trust said the decision to separate them had not been taken lightly.
"Despite the best efforts of staff and the very committed new owners, it became evident that Lily and Maddison were no longer happy to live together.
"The nature of their relationship changed in their new home environment and after careful consideration, and many attempts at re-introduction in different surroundings which continued until very recently, the decision was made that they would need to be rehomed separately," she said.
'Stress and uncertainty'
Lynn Barber, the head of canine behaviour at the Dogs Trust, said initially the dogs had been happy together but moving to a new home had proved stressful for Lily and she struggled to adjust to the new environment.
"The stress and uncertainty Lily felt during the move resulted in her attacking Maddison.
"Unfortunately some fights in the dog world are so distressing that it becomes too difficult to forgive each other.
"For the safety and well being of the dogs, Lily and Maddison will be rehomed separately.
"Human company and affection in their new homes will help take the place of dog companionship and ensure their happiness," she said.
The Dogs Trust is now looking for a new home for Lily where she would be the only pet.