Camel milking parlour developed by Shropshire firm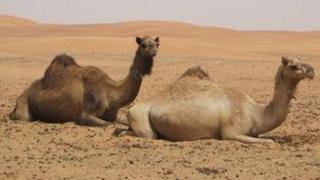 A herd of camels in a desert in Abu Dhabi are being milked using equipment developed by a firm in Shropshire.
Before the custom-designed parlour was installed by Fullwood the 2,500 camels were being milked by hand.
The equipment has been bought by one of the largest dairy producers in the United Arab Emirates.
Suzy O'Shea, from Fullwood, said: "It's going from the dark ages to the space age in terms of milking camels."
She added: "The equipment, which normally would be at ground level, is underground keeping it protected from heat and dust."
The company has previously made equipment to milk cows, sheep, goats and buffalo.
Horse milk
Mrs O'Shea said that the hand milking process for camels was very labour intensive.
"If you can try to picture two men with a shallow bowl holding it underneath the camel's udder, balanced on one of the men's knees
"Then if you can imagine 800 camels in extreme heat and dust, and a whole team of men trying to milk them several times a day," she said.
The new milking parlour can be run by a team of 12.
Mrs O'Shea said the firm has now been approached about producing equipment to milk horses.
"I know we've had enquiries from Kazakhstan and that part of the world - different countries like different kinds of milk," she said.