Stolen antiques hoard discovered in Shrewsbury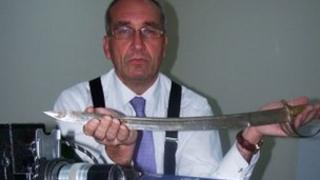 A hoard of antiques believed to have been stolen from Shropshire homes has been found at a property in Shrewsbury.
A police search discovered items such as an Indian sword, a set of silver butter knives, and a suitcase full of 78 records.
Det Sgt Chris Hughes said the items could have been stolen from anywhere in Shropshire, but most likely from the Shrewsbury area in recent weeks.
A 19-year-old man was arrested on Thursday and later released on bail.
Mr Hughes, from the burglary unit at West Mercia Police, said: "Some of the items are quite valuable and I imagine would be of sentimental value. I am hoping the rightful owners will come forward."
Police are continuing to investigate the burglaries.