Caver saved in Shropshire mine rescue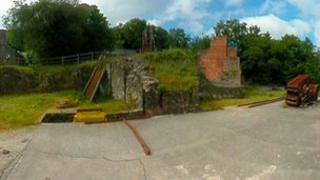 An injured caver has been rescued from a disused mine in South Shropshire after a six-and-a-half hour operation.
The 24-year-old was deep underground at Snailbeach near Minsterley when she had an epileptic seizure.
More than 50 people from the Midlands Cave Rescue Organisation were involved in the rescue along with West Midlands Ambulance Service staff.
The woman, who also injured her back, was winched 300ft to the surface and taken to hospital on Wednesday evening.
A spokesman for the West Midlands Ambulance Service said the alarm had been raised by the woman's companions just before 21:30 GMT.
"Fortunately the woman had medication for her epilepsy which the group quickly administered.
"Due to the nature of the woman's condition and the unusual location, a HART (Hazardous Area Response Team) paramedic, who is trained in confined space working, went with the group members who are part of a mine rescue team, back underground," he said.
Winched to safety
Neil Rushton, the warden for the Midlands Cave Rescue Organisation, said people from all over the Midlands and as far away as South Wales had attended.
"We evacuated the casualty more quickly than we expected. It took just over six hours altogether, but for the setting that we were in that is quite fast," he said.
The ambulance spokesman said the paramedic has assessed the woman and stabilised her condition before the mine rescue team carried her to the bottom of The Chapel Shaft.
"A tripod rope system was set up at the surface and the woman was winched up with the doctor, a task which in itself took around 30 minutes," he said.
She was taken to the Royal Shrewsbury Hospital for treatment.
Mr Rushton said he was not worried about the safety of Snailbeach Lead Mine which was regularly visited by hundreds of people.
"We have very few incidents and I think this is just an unfortunate accident... I don't really think there is anything to be too alarmed about in terms of things that have gone wrong."