Shropshire Council staff accept new pay deal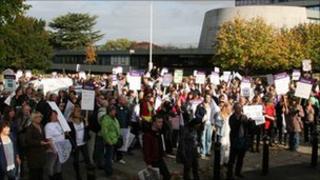 Union members at Shropshire Council have voted to accept a new pay and conditions deal.
Staff had faced a 5.4% cut, phased over two years, and staged a 24-hour walkout last month. The council had said the cut would help save up to £7m by 2013.
Now, an immediate 2.7% cut has been agreed but council leader Keith Barrow said they hope to be able to reduce a second, later cut of 1.9%.
Unison confirmed further industrial action had been called off.
The council employs about 6,500 people and staff voted two-to-one in favour of the deal, Mr Barrow said.
'Draw a line'
"I'm obviously delighted that by a majority of two-to-one they've voted to accept it and get things back on an even keel," he said.
"They have taken a 2.7% cut from 1 October but we've given them two days paid leave over the Christmas period which will mitigate that slightly.
"We have been able to say with that saving at this stage, and I hope it can become less, the second trench in cut of salary will be no more than 1.9% and we'll worth together hopefully to do other things and achieve other savings so we can avoid that."
Unison branch secretary Alan James said: "[It] has been a very traumatic year for everyone at Shropshire Council whether that's as a Unison member or not.
"Let's draw a line in the sand and accept where we are and look forward now to hopefully securing some more security and better jobs prospects for in the future."