Katie Edwards plays in World Deaf Futsal Championships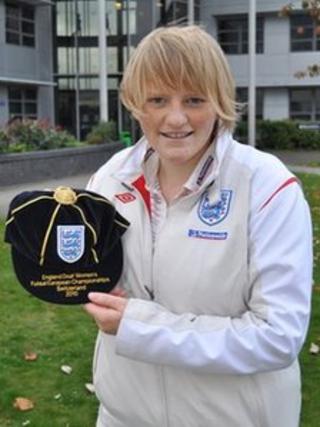 A Shropshire student, who is playing for England in the World Deaf Futsal Championships in Sweden, said the trip had been made easier by sponsorship from the Football Association.
Katie Edwards, 19, from Wem, has already played football for Great Britain in the European Deaf Women Football Championship held in Bulgaria in June.
Miss Edwards said: "When I was playing for Great Britain I had to raise £2,000 last year to go to Bulgaria, and we found it really hard to raise that money, but with the FA it's all paid for."
The FA said it had provided sponsorship and all the support staff needed for the England squad to compete in the tournament.
A spokesman said: "Currently the FA supports four disability England squads as we wish to ensure all abilities have the opportunity to reach their potential and wear the three lions."
Futsal is a non-contact form of indoor football played with a specially designed ball that has 30% less bounce than a conventional ball.
The game is played by a team of five, with seven other players in the squad who can be used as substitutes an unlimited number of times.
Miss Edwards said: "Both sports are hugely important to me - they have helped me to develop my confidence, and a 'can do' attitude".
She is in the second year of a diploma in sport course at Walford and North Shropshire College.
The England team will be competing against 16 other countries including the current world champions Germany.