Street Pastors scheme introduced in Shrewsbury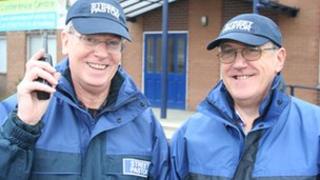 Volunteers helping people who are potentially vulnerable at night are being introduced in a Shropshire town centre.
Street Pastors will be in Shrewsbury talking to clubbers and giving out water, lollipops and flip flops.
Their non-confrontational role will be based around nightclubs at weekends.
The scheme, which follows others across the country, has been organised by police, churches and Shropshire Council.
Street Pastors are Christian volunteers who are trained and CRB checked.
Ian Horne, one of the 11 pastors who will be out on patrol in Shrewsbury, said the first job would be to meet "all the door staff and people working in the night-time economy to introduce ourselves".
Mr Horne said the scheme had "tremendous support" with 20 local churches actively helping it launch.
The first Street Pastor scheme was set up in London in 2003 and there are now more than 100 across the UK, with one introduced in Telford earlier in the year.