Harry Patch memorial dedicated in Shropshire church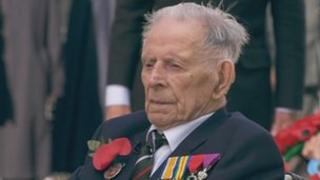 A memorial to the late Harry Patch, who was the last British survivor of the World War I trenches, has been dedicated at a Shropshire church on Armistice Day.
The commemorative plaque also marks Mr Patch's marriage to his first wife Ada Billington at Holy Trinity Church in Hadley in 1919.
The dedication of the bronze memorial followed a Service of Remembrance.
Mr Patch died in July 2009 at the age of 111.
Henry John Patch was born at Combe Down, a village near Bath, on 17 June 1898 and became an apprentice plumber after leaving school.
He was conscripted into the Duke of Cornwall's Light Infantry at the age of 18 and fought in the battle of Passchendaele in 1917.
After being wounded by shrapnel, Mr Patch spent 12 months in hospital.
In September 1919, the marriage between Mr Patch and Ada Billington was held at Holy Trinity Church and he returned to work as a plumber.
The memorial commemorates Mr Patch and his marriage at the church and ends with the words "May he and all his comrades Rest In Peace".