Chinese jar valued at £500,000 unsold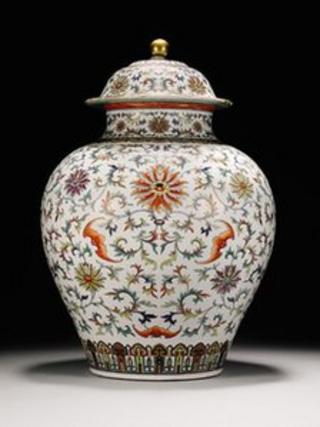 A Chinese jar which auctioneers thought may fetch up to £500,000 at auction has failed to meet its reserve.
The 18th Century jar stood in a Shropshire house near a dining room window for 30 years.
The vase, decorated with lotus flowers and bats, was spotted by Jeremy Rye, a fine art agent who had gone to value a dessert service.
But auctioneers Sotherby's said the jar had failed to meet its reserve and was therefore unsold.
Mr Rye said: "The owners had no idea of its value, and I suspect that they would have parted with it for a few hundred pounds."
The auctioneers said before the auction they expected the vase to fetch between £300,000 and £500,000
Stephen Loakes, from Sotheby's, said: "Often jars and their covers become separated over time and it is a rarity to have a complete set."
Mr Rye saw the 18in (45cm) high vase standing on the floor of the private house he was visiting in Shropshire.
He said the owners did not know the exact story of the vase but their ancestors traded in the Far East and were collectors so it was thought that was how it was acquired.