Odeon release images of new Telford cinema complex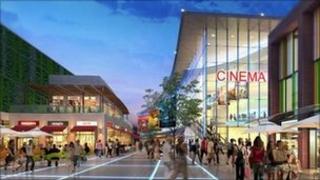 Images have been released of what a new entertainment complex in Telford could look like ahead of public consultation.
Odeon Cinemas and Telford Trustees, owner of the Telford Shopping Centre, have unveiled plans for a 10-screen cinema complex.
The centre would also have 38,000 sq ft of shopping and restaurant space.
A public consultation event is set to be held from the 10 to 13 November in the shopping centre so residents can view the plans.
Ken Taylor, property director of Odeon and UCI cinemas, said: "We are incredibly excited about the opportunity to open a new cinema in Telford.
"The Telford Shopping Centre is well-established as a retail hub for Shropshire and this move will only extend the town's appeal, and provide a greater quality of evening entertainment for local residents."