Telford school's summer club proves inspirational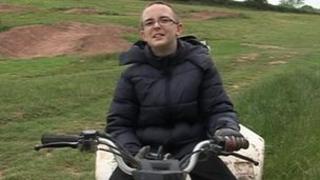 A pupil at a Shropshire school for children with special educational needs says a two-week summer activity scheme funded by Children in Need (CiN) has inspired him to become a mechanic.
Each year Mount Gilbert School in Telford offers its pupils the opportunity to try activities like rock-climbing and quad-biking as part of their Summer Club.
The children are picked up from their homes each day and taken to a number of locations in the surrounding countryside.
Tom, from Year 11, says he's now going to look for work experience when he finishes his education after developing new skills on the scheme.
He said being involved with the club was "better than being stuck at home all day" because he was not "sat in a classroom doing work".
Improved relationships
Tom joined Mount Gilbert in Christmas 2007 and is adamant that it is "one of the best schools".
"I've never had as good teachers in my life. They know how to have a laugh.
"When you get annoyed they calm you down.
"I used to be a bad piece of work when I went there - now I'm nice."
Deputy head Keith Melville believes breaking up the summer holiday with the activity scheme, where there is one member of staff to every three pupils, makes "quite a difference" to the children, and often proves to be "pivotal" in shaping their behaviour in school.
"It improves our relationships with the youngsters so when we come back into school we can draw on that in the classroom," he said.
"It gives us that extra time during the summer holiday where we're just maintaining that link.
"We don't see it as a reward. We see it as part of our enrichment curriculum.
"There are a lot of young people that we see leaving this school come Year 11 who have not only really enjoyed that experience but would say it was one of the most pivotal experiences of their school career."
'Healthy lifestyle'
The three-year CiN grant of £25,000 in 2009 means the school has not had to worry about finding the money to fund the scheme, allowing staff like Paul Gamble, a youth development worker at the school, to concentrate on helping to boost the children's "social skills" and improve their confidence.
"The great bonus of this is that we find attendance at school increases after because they build up good relationships with staff and other pupils. They feel more comfortable with us," Mr Gamble said.
"Many of them would be at home. This opens their eyes to a healthy lifestyle.
"I think in future it will pay dividends. A lot of them will get jobs and go on to college. If they weren't given these chances they may just fall by the wayside.
"I've seen pupils and children from other jobs that I've had ending up in dire situations. They end up in care and some end up in young offenders institutions.
"Hopefully at our school we can steer them away from that path in life."
BBC Local Radio is hosting 22 special screenings of Grease in aid of CiN, at Cineworld cinemas across England on Tuesday, 15 November. Tickets are £6, with £5 going to CiN. More details here.