New shop for Malinslee 18 months after arson attack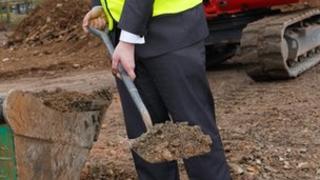 Redevelopment work has begun in a Shropshire town that has been without a shop since an arson attack last year.
Seven people were arrested and later released in connection with the fire at the Spar supermarket in Malinslee in May 2010.
The new development will include a new supermarket, leisure facilities and children's play area.
More than 30 firefighters dealt with the fire. No-one was injured in the blaze.
Councillor Kuldip Singh Sahota, from Telford and Wrekin Council, said: "The shops were built there about 35 to 40 years ago and they had seen better days.
Open in spring
"There was a Spar, hairdressers and a chippy and then Spar burned down. We had to move quickly.
"They (the community) were needing their essentials - where do I go to get my milk, how far have I got to walk?"
Planning approval was granted for the project in July 2011.
Councillor Richard Overton, cabinet member for town development and policy, said: "The fire at the supermarket in 2010 was a real blow for local residents.
"I am really pleased that work has now begun.
"The redevelopment will greatly enhance Malinslee for its residents and I look forward to seeing the work progressing even further over the coming months."
The redevelopment scheme is scheduled for completion and due to open to the public in spring 2012, while the play area and ball court are expected to be completed in December, the spokesman added.
Further development work may take place after the local doctors' surgery submitted a planning application, the council said.