Council reviews recycling bins to try and reduce waste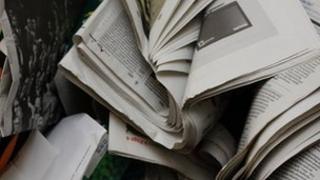 A Shropshire council has started checking how much waste people are recycling to try to save money on landfill tax.
Telford and Wrekin officers will go out with collection crews, note which recycling containers are being put out and estimate how full each one is.
The council said it was "not an exercise to snoop" and it would not be checking the grey rubbish bins.
The review will begin in Woodside and part of Madeley.
The council said the aim was to look at ways of increasing recycling in the borough and reduce the amount of waste being sent to landfill.
'Quick glance'
Councillor Shaun Davies, cabinet member for environment, said the review was necessary if they were to ensure that "additional landfill taxes being levied on councils are not passed on to our council-tax payers".
The council said the process would "not include anything other than the officer taking a quick glance at each container".
Councillor Davies said: "I can assure everyone that this is not an exercise to snoop in bins and monitoring of the waste in individual grey bins will not be a task of the officers undertaking the review.
"We recognise our residents are already doing a lot towards recycling and while we don't have the power to force anyone to recycle we can certainly do our best to encourage an increase."
The council said the initiative would be rolled out across the borough.