Bishop's Castle's charters and seal unlocked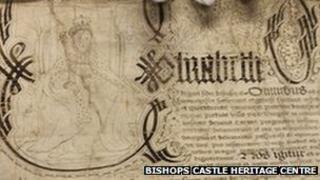 Royal charters from a Shropshire town have been seen for the first time in 40 years after a missing key was found.
The 500-year-old charters for Bishop's Castle were stored in a local bank.
The key to a padlock on the original box turned up in the mayor's parlour.
Town Clerk Diane Malley said: "In the 1970s we did have access to the charters because for a short time they were on display in the town hall, and sometime after that they were locked in the bank and the keys mislaid."
Mrs Malley found an envelope marked "unknown keys" in a cupboard and decided to see if one of them would unlock the charter box.
"It was actually during a meeting that the resource centre brought the box over to us to see if any of these keys fitted and it was then that we opened them up - so there was quite a lot of excitement," she said.
Queen Elizabeth I
The charters are now being professionally digitised so that members of the public can view them without harming the original documents.
Mrs Malley says the original charters and seal will be kept in a "secure and safe place".
The first charter, signed by Elizabeth I in 1573, made Bishop's Castle a borough.
The second charter, signed by James I, gave Bishop's Castle the right to send two representatives to Parliament.
The town sent two men to the House of Commons in 1584, and was granted the right to carry on doing this for the next 248 years.