Hundreds debate Wakeman School closure threat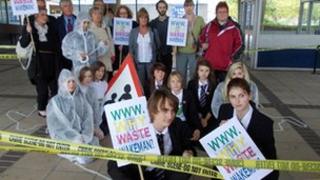 More than 300 people attended a public meeting at a Shropshire school which is threatened with closure.
Shropshire Council said the Wakeman School in Shrewsbury should close because of a fall in pupil numbers.
The town centre school has only 240 pupils on its roll this academic year, out of a capacity of 675.
Government-appointed schools adjudicator Canon Richard Lindley listened to arguments on both sides at the meeting on Friday.
Year nine pupil Will Wheeler told the meeting his sister had also attended the Wakeman and "she's really successful and I think it's because of this school".
He said he would be upset if the school was closed: "It's a really good art and drama school. I want to become an actor when I'm older. This school's really good for me."
Parent Liz Von Rostron, from Bayston Hill, said her children would have to travel to Church Stretton if the Wakeman closed.
Head teacher Karen Moore said a petition opposing the closure of the school had 8,000 signatures on it.
"I think it's very, very clear there's strong support for this school," she said.
Canon Lindley said he was facing a difficult task.
"It's going to be a hard decision. One of the hardest I've had to make. I can see the argument very clearly on both sides, but in the end a decision has to be made," he said.