Supermarket plans for Whitchurch get green light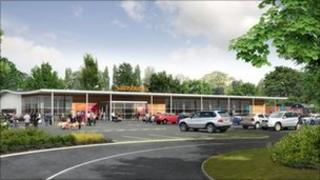 Plans for a new Sainsbury's supermarket in a Shropshire town have been given final approval.
The government has decided not to subject the application to build a new store in Whitchurch to further scrutiny.
Shropshire Council approved the scheme last month but Sainsbury's had to wait for the government's decision.
Tesco is also hoping to expand its store at the White Lion Meadow and to build a superstore at Edgeley Park.
Malcolm Donley, of the Whitchurch 21 group of local businesses said he was "quite delighted" that the plan had passed its "last hurdle and the Secretary of State was happy with it".
He said it was good news for Whitchurch because the new store was in a good position on London Road to increase the footfall into the town.
The Whitchurch 21 Group, which was formed to campaign for the "sustainable development" of the town, opposed the Tesco applications which have yet to be determined.