Shrewsbury's Wakeman school hosts public meeting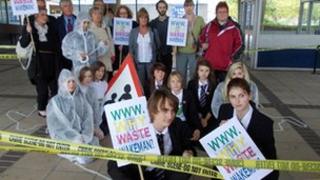 Governors at a closure-threatened school have urged local people to have their say at a public meeting.
Shrewsbury's Wakeman school was approved for closure by Shropshire Council on 7 September, due to falling numbers.
A public meeting has been called at 18:30 GMT on Friday by the schools adjudicator, after a formal appeal was launched by the school.
The adjudicator is expected to make a decision within the next month.
Regardless of the outcome, governors said the school was also pursuing a bid to become an academy, which would remove it from local authority control.
It is the only secondary on a list of six schools in the county backed for closure.
The town centre school has only 240 pupils on its roll this academic year, out of a capacity of 675.