Remote Shropshire residents 'run out of water'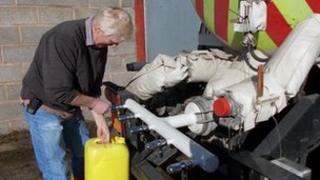 The water supply to people living in a remote part of Shropshire is running out, forcing families to travel miles to get water from relatives or friends.
Private springs, wells and bore holes around the village of Clunton, used by those not on mains water, have dried up in the driest year since records began.
One couple said they had been without water for nearly 12 weeks.
Severn Trent Water has provided a water tanker to "help out" but said it was not responsible for private supplies.
Retired couple David and Coraine Oakley have lived on the Black Hill in south Shropshire for 13 years and said this was the first time their spring had run dry.
Underground aquifers
Mr Oakley said: "We feel a bit bereft really. It's so essential isn't it?"
According to Shropshire Council about 10,000 people in the county use a private water supply and most of that comes from underground aquifers which were running "quite dry" in south Shropshire.
Most are not on mains water because of their remote location - with many living on hills away from towns and villages.
Martin Key, Environmental Protection Manager for the council, said: "As rainfall drops the aquifers - the levels of the reservoirs drop - and some of the bore holes may be running dry because they're too shallow."
Mr Key said the council was responsible for making sure every house had a clean and wholesome supply.
However he added it was the responsibility of the house owner to make that supply available.
'Flash rain'
Mr and Mrs Oakley said they had been washing their clothes and showering at friends' houses.
They said they had spent about £170 on 25 litre (5.5 gallon) containers and currently travelled as far as Birmingham - about 50 miles away - to get water from family.
Sheep farmers Jonathan and Carol Griffiths currently take their 1,000 litre (220 gallon) bowser and fill it at a relative's house.
Mr Griffiths said they planned to buy a second bowser and install a small reservoir.
An Environment Agency report said the 12 months to October had been the driest in the Midlands since records began in 1910.
Mr Key said Shropshire Council was working with Severn Trent Water and other organisations to look at climate change and the possible situation in the future.
Mr Key said: "This potentially may actually get worse if we have longer, drier summers and then flash rain in the winter which doesn't fill the reservoir in the usual way."
Residents who rely on springs could try drilling a bore hole, which is relatively costly.
Another option could be to connect to the mains supply, which would also be costly as most of the properties concerned are on remote hills.
Neither Mr and Mrs Griffiths nor Mr and Mrs Oakley were planning either option in the immediate future.
Instead they said they would be "keeping their fingers crossed" that rain would come and this year would be a one-off.