Cosford railway station closes for £2.1m redevelopment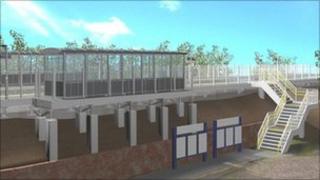 A Shropshire railway station has closed for more than four months as part of a £2.1m redevelopment project.
Network Rail said a replacement bus service would take travellers to nearby Albrighton railway station.
Local parish councillor David Beechey said the new facilities would be worth the disruption.
The work on Cosford station, expected to be completed in mid March, will include two replacement platforms, fencing, shelters and staircases.
Keith Lumley, from Network Rail, said much of the station, built in 1937, was constructed of railway sleepers which could be more than 100 years old.
"Given the increasing number of people using the station, particularly to go to things like the Cosford Air Show, it's about time we replaced these old timbers with modern fabrics," he added.
Trains will continue to travel through Cosford, but the station will not be open.