Farmers fear winter feed shortage after dry autumn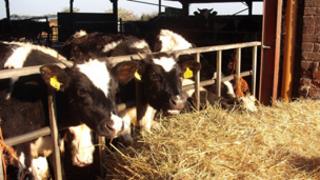 Farmers in some parts of Shropshire could be facing a winter feed shortage because of a lack of Autumn rainfall.
Some in South Shropshire are having to rely on water bowsers as their wells run dry.
An Environment Agency report says that the 12 months to October havee been the driest in the Midlands since records began in 1910.
The National Farmers Union said it was in discussion with the Environment Agency to keep on top of the situation.
Arthur Hill who runs Walton Grange Farm at Much Wenlock keeps his own rainfall records.
"Our average rainfall for the Much Wenlock area is 30ins (762mm). So far this year we've had 16ins (400mm)."
He said there was no chance of making up the shortfall before winter set in.
Farmers are already feeding full winter rations to their animals to ensure they are in good condition to face the cold weather.
Mr Hill said ewes in particular needed to be fit for the breeding season.
"They need to be in good condition so that they conceive the most number of lambs possible and we're having to feed for that condition now rather than the grass providing it," he said.
It is not just stock farmers who are being affected. Mr Hill said arable farmers who expect their reservoirs to fill over the winter are going to be short of water for irrigation next year.
'Hiding behind sofa'
Sheep farmers, Jonathan and Carol Griffiths from Clunton in South Shropshire, have had no water from their bore hole for more than a week. They are relying on family and friends for their supplies.
Mr Griffiths said they had bought a water bowser: "We visit my father in Ludlow probably more than he would like to see us. We have friends who are on the mains (water) who might possibly start hiding behind the sofa when we turn up."
But the couple count themselves lucky.
"We've only been out a week. We have friends who've actually been out for 11 weeks. They don't have a water bowser. They're carrying it in five gallon drums," Mr Griffiths said.
Mrs Griffiths said it was not just the inconvenience of driving to collect their water: "We give people £2.50 every time we fill."
For Mr Griffiths there is just one answer to his problem: "Rain in large quantities for a prolonged period. Preferably all winter, day in day out, night and day."
The NFU's regional environmental adviser, Helen Cork, said the lack of rainfall was a concern and had put a strain on farm businesses in some parts of the county.
"We need a lot more rain and a wetter than average autumn and winter to help get levels back up to where they should be.
"While the recent downpours were welcome to help crops already planted and allow easier autumn harvesting of potatoes and other root vegetables, a couple of rainy days here and there will not do," she said.