Telford Junior League football scores must be recorded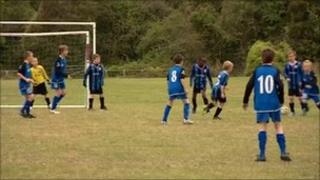 A Shropshire junior football league has been told it must publish scores correctly instead of changing them to avoid embarrassing players.
Telford Junior League said regardless of the actual scores, it would list games as 1-0, 0-1 or 0-0.
But the Shropshire Football Association's Rules Revision committee said the listings were "unacceptable".
A spokesman for the Shropshire FA said scores must be given correctly online and to the media.
He said: "Match scores must be correctly recorded.
FA guidelines
"All results except for non-competitive age groups may be reported via the FA website and various other media outlets."
Keith Davies, from the league, said previously they were following FA guidelines that would protect the welfare of players.
But the Shropshire FA said clubs should have been consulted and that the full results should be reported.
Mr Davies had said the league was testing the approach and that it always planned to consult participating clubs in future months.
He added that there were other options available to the league, such as reporting games as simply wins, draws or losses.
Some clubs have chosen to publish the full results on their own websites.
Telford Junior League represents 200 teams, with almost 3,000 players in categories ranging from under-nines to under-16s.