Restored Broseley chapel 'gem' nears completion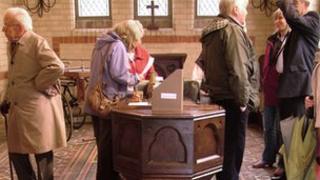 The restoration of a chapel with links to the Palace Chambers in Westminster could be completed by Christmas.
The Cemetery Chapel in Shropshire was built in 1885, but by 2008 it was used to store Christmas lights and tools.
Gill Pope, from Broseley Local History Society, said the floor was a "gem" made out of tiles from a consignment used at the former Foreign Office.
Grants of about £30,000 have paid for restoration work, and floodlighting would complete the project.
Mrs Pope said the chapel in Broseley was in a beautiful setting surrounded by huge trees.
When it was flood-lit, it would be "quite a feature" for the area, she said.
Tiles on show
According to Broseley Local History Society the chapel's roof tiles and bricks were probably made nearby and research suggested the floor tiles were made between 1868 and 1879 by the Craven Dunnill factory in Jackfield.
Mrs Pope, chairman of the history society, said the tiles had made "a wonderful floor".
In 2008 campaigners failed to win a grant from the People's Millions to restore the Cemetery Chapel, but the television coverage raised the profile of its history.
The building, owned by Broseley Town Council, was officially reopened in July and opened to the public for the first time since restoration in October.
The encaustic floor tiles from the Palace Chambers building in Westminster were removed before it was demolished in the 1980s and are on show at the Ironbridge Gorge Museum.