Shropshire village faces up to reality of job losses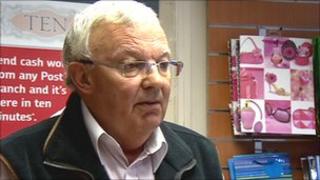 Minsterley Creamery, still often referred to by some of its former names of Eden Vale and St Ivel, is one of the best known businesses in Shropshire.
It has been in operation since 1906 and has employed thousands of people from the area since that date.
"Everybody worked at the creamery," said Adrian Williams, one of its employees who lives in the village.
"People used to say if you've got a job at the creamery, you've got a job for life."
But in the summer, its owners Uniq plc (formerly Unigate), announced that 400 jobs would go.
By June 2012 only 100 workers will still be working at the factory.
The company said that it had little choice because it had been losing money for a considerable period on its line called Everyday Desserts.
'Looking over their shoulders'
Impending job losses are already having an unsettling effect on other local businesses.
Bruce Bill, sub post master at Minsterley, has been forced to make four members of staff redundant.
He now runs the post office himself, and its shop - which sold newspapers and groceries - has closed.
"The majority of my customers are 40-plus... they're saying 'how are we going to manage, where are we going to get a job?'" said Mr Bill.
"Even people who are employed and live in the village, who work for the council there, are all looking over their shoulders.
"All our services are going to be affected badly, there's not a lot I can do about it."
Mr Bill thinks it is inevitable that people will have to leave the village when the job losses hit next year.
Recent takeover
For local people with deep roots in the area there are difficult choices to make.
"My job is vulnerable, I've come to the realisation that I'm going to lose my job," said Mr Williams.
"It takes a bit to sink in, I'm 52, and the work around here is very minimal.
"There's my age and experience; there's not a lot of call for a hygiene supervisor around Minsterley."
Irish food conglomerate Greencore completed a £113m takeover of Uniq in September. A spokesman for Greencore said there were no plans for further redundancies.