Ironbridge Gorge commissions 2012 art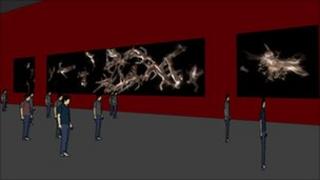 Ironbridge will host a major piece of digital art as part of the London 2012 Cultural Olympiad.
The original work, by Chicago-based Austrian artist Kurt Hentschlager, has been funded thanks to a grant of almost £100,000 from Arts Council England.
Ironbridge Gorge Museums Trust said the work, entitled Core, would be displayed at the Enginuity museum from March.
The installation will feature computer-generated video projection, set to a soundtrack.
A series of screens will double as "windows into a weightless world, populated by groups of humanoid figures".
Mr Hentschlager said the figures would "interact like a school of fish... and at other times like intricately choreographed modern ballet dancers".
The work will be curated by French producer Richard Castelli, and will remain on display until autumn 2012.
Anna Brennand, deputy chief executive of Ironbridge Gorge Museums Trust, said: "We believe that being part of the London 2012 Festival will help generate a significantly wider and larger audience for the museum.
"It will deliver on the London 2012 cultural vision of inspiring creativity across all forms of culture, especially among young people."
She added that the museum would also be working with local schools as part of the commission.
Ironbridge hosted the West Midlands launch of the Cultural Olympiad in September 2008.
The four-year project aims to encourage people to get involved with creative activities in the lead-up to the 2012 Games.
The Olympiad culminates on 21 June with the London Festival, which continues throughout the Olympic and Paralympic Games.