Lilleshall-based gymnasts target Olympic success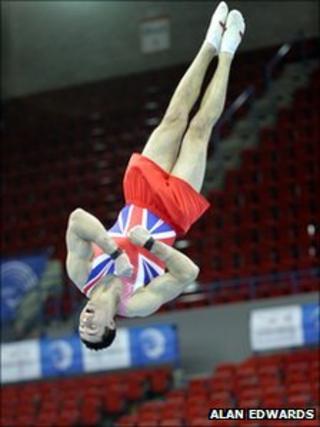 A show-off who is "in it for the thrill" - that's the self-portrait painted by gymnast Kristian Thomas.
The 22-year-old from Wolverhampton is also the British men's team captain and, according to technical director Eddie Van Hoof, one of the hardest-working members of an ambitious squad.
Britain's gymnasts leave for the World Championships in Japan next week knowing it is one of only two chances to qualify for London 2012.
Just 12 countries will compete in each of the team events next year.
The athletes believe the set-up at their Lilleshall base, near Newport, Shropshire, is one of the reasons they stand a good chance of not only securing a place but genuinely competing for medals.
Van Hoof said: "This is a world-class centre, no shadow of a doubt. It's the equal to anything around the world.
"We have the best facilities, great back-up, great support from everybody,"
Three-time world champion Beth Tweddle also described the gym as one of the best in the world.
She said: "Everything's on site, so we can just focus 100% on our training."
'Sporting edge'
Almost exactly a year ago the Lilleshall National Sports Centre was reopened, following a £3.5m revamp.
Sport England, which funded the project, said the investment in new facilities was meant to give athletes the "sporting edge" as they prepared for the 2012 Games.
Thomas said: "Target number one at the World Championships is to qualify for the Olympic Games.
"Target number two is to stay fit and healthy. Target number three is to have the competition of my life at the Olympics."
According to Van Hoof, the team captain is "a fantastic example to the other members of the squad".
Medal hopes
Thomas, who took up the sport at the age of five, said he now trained about 25 hours a week, focusing on conditioning, or individual technical elements.
The gymnasts typically train at their home clubs, before coming together for key sessions at the National Sports Centre.
The British Gymnastics Association has been based at Lilleshall since the 1970s and the centre has been a key part of British sport since 1949, when the Central Council of Physical Recreation moved in.
Louis Smith's bronze in Beijing in 2008 was the first sign of a national renaissance in the sport.
At the 2010 European Championships Daniel Keatings, 21, won the country's first individual gold on the pommel horse, while the men's team won their first-ever medal at the competition, a silver.
In the same year, Daniel Purvis, 20, won bronze at the World Championships for his floor routine.
The future might look bright but all Olympic hopefuls need to qualify and none of the British squad, even Tweddle, said they were taking anything for granted.
As Thomas said: "Next stop Tokyo".