Whitchurch Sainsbury's plan backed by Shropshire Council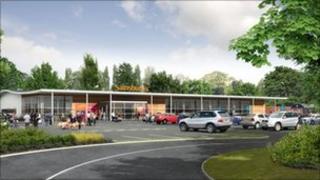 A business group in a Shropshire market town is celebrating after plans to build a new supermarket were given the go ahead.
Shropshire Council on Tuesday approved an application by Sainsbury's to build a new store in Whitchurch.
Malcolm Donley, of the Whitchurch 21 group of local businesses, said it would "improve the sustainability of the town".
Tesco has also revealed plans to to build a larger store in the town.
Tesco currently owns a small store in the town centre, but has applied to build a larger supermarket out-of-town, at Edgeley Park.
Mr Donley said the location of the Sainsbury's supermarket was very important, with the London Road site just a few minutes' walk from High Street shops.
He said: "One of the problems we have here is that a good number of people actually go elsewhere to do their shop, because they don't have any choice."
The Whitchurch 21 group was formed by local businesses to campaign for the "sustainable development" of the town.
Of the 151 letters sent to the council before the Sainsbury's hearing, 125 were in support of the proposal, and the town's chamber of trade also backed the plan.
Shropshire Council's north planning committee unanimously approved the application.