Union members at Shropshire Council back strike action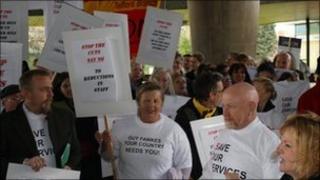 Staff at Shropshire Council facing a 5.4% pay cut have voted in favour of strike action.
In a ballot by the Unison trade union 66% of those who voted said they were prepared to take industrial action, with a 45.8% turnout.
Unison said 2,100 of its members were balloted locally.
Kim Ryley, chief executive of Shropshire Council, said the changes to terms and conditions would allow it to avoid making 500 redundancies.
Unison branch secretary Alan James said the union would be meeting later on Tuesday to discuss what action to take, which would not necessarily involve strikes.
'Really unhappy'
Mr James said: "I hope the council will now come back to us and say let's see what we can do to avoid any action.
"I want to be absolutely clear about this, nobody at Shropshire Unison wants to strike.
"I hope now they [the council] believe what we've been saying for some months, the workforce are really, really unhappy."
In July, the Conservative-led authority sent letters to all 6,500 of its staff saying they would be dismissed on 30 September and immediately re-hired, but only if they agreed to a pay cut.
Mr Ryley said 1,500 staff had already accepted the new terms and conditions.
The authority said it had to save £76m, due to reduced government funding. It said the 5.4% pay cut, phased in over two years, would ultimately save £7m a year.
Mr Ryley added: "We are very unhappy about the possible disruption of public services that this industrial action poses and will do all we can to reduce the impact on local people.
"We have urged Unison to keep talking to us about how we can fulfil our promise to protect local jobs and a full range of services to Shropshire residents. But, the trade union has refused to do this."