Wounded Shropshire soldier aims for Paralympic glory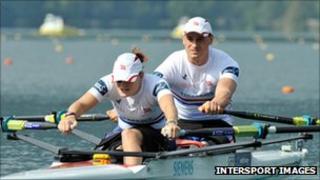 A Paralympic rower has paid tribute to the sport which gave him a new focus after being severely injured in a bomb blast in Afghanistan.
Capt Nick Beighton, from Shrewsbury, lost both legs when he stepped on an improvised explosive device in 2009.
He and his double scull partner Sam Scowen are the first Great Britain crew to qualify for the 2012 Games.
Currently competing in Slovenia, in the World Championships, Capt Beighton said he was relieved to make the team.
Before suffering his life-threatening injuries, he said he had never seriously considered rowing and had preferred climbing and mountaineering.
Setting goals
Capt Beighton, who was serving with 28 Engineer Regiment when he was injured, said: "In the first few months... the objectives and goals are very simple: Get out of hospital, get to Headley Court and begin your rehab, get on your legs and get fit and healthy.
"Beyond that you need something that gets you out and gets you back into the real world.
"Rowing cropped up at a really good time for me and gave me something to focus on.
"It's definitely pushed me on in my fitness and in setting yourself goals again, which is pretty important."
Currently competing in the World Rowing Championships on Lake Bled in Slovenia, Beighton and Scowen are guaranteed a place in Saturday's final, despite being narrowly beaten by Australia in qualification.
Capt Beighton and his partner have only been competing together for four months and with almost a year to go before the start of the London Paralympics, he said there was still room for improvement.
"It's a once in a lifetime opportunity. We can't get carried away. We've got to focus on the things we can control, which is getting back on the water and training hard.
"It's a big commitment. All the members of the adaptive squad train full time. So I row and train, either in the gym or on the water six days a week."