Olympic Dreams: Alison Williamson aims for 2012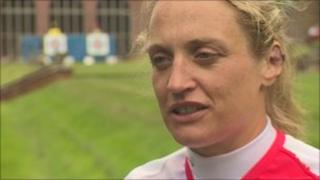 Shropshire archer Alison Williamson hopes to join a select group of sportsmen and women.
If selected for London 2012, Alison will become only the third British athlete in history to compete in six Olympic Games.
To get to London, Alison first needs to qualify for the team.
After a disappointing World Cup third round in USA she has made the team to compete in Shanghai in the final stage of the competition.
With less than 12 months to go until the start of the 2012 Games, time is running out for everyone in the squad to claim a place in the team.
The competition in Shanghai 7-10 September will be one of the last opportunities for everyone in the squad to impress the coaches.
Alison, who has recently returned from Utah, said: "I think most people are disappointed with their performances - I know I am individually.
"If you have a bad performance as an individual you feel down. But if the general mood of the whole camp is fairly low, it's difficult to pull up."
The British archery squad has returned to its training base at Lilleshall in Shropshire, hoping to find better form before Shanghai.
"It's a time we need to go back home and have a look at what we're doing. We've got psychologists we work with, coaches we work with. We try to create a positive atmosphere.
"I've made the team for Shanghai. That's our last international event.
"We'll also have the test event at Lords in October, but we don't know who will be in the team at the moment."