UK Coal evicts Shropshire New Works protesters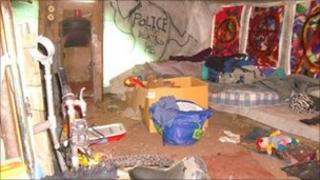 Environmental campaigners have been evicted from a site near an opencast mine in Shropshire.
UK Coal applied to mine New Works near the Wrekin area of outstanding natural beauty in Telford about four years ago.
Some residents objected but permission was granted by a planning inspector in October 2009 after a public inquiry.
Protesters set up illegal camps on the site in March 2010 but on 19 August eight protesters were removed after UK Coal obtained an eviction notice.
The protesters were removed by UK Evict with members of West Mercia Police also present.
'No sympathy'
There were originally about 15 protesters at the site who said they were against the extraction and burning of fossil fuels when alternative, more sustainable fuel sources were available.
A spokesman for the firm said the protesters' location did not disrupt mining operations, but UK Coal was committed to evicting trespassers.
Councillor Jacqui Seymour, ward member for Wrockwardine, said: "I was alerted to the fact that UK Coal and police had moved on to the site and they had moved away all the protesters on the site on the surface and they have destroyed their camp.
"I have no sympathy for their actions at all. None of the residents wanted the coal mining to go on however we lost the fight."
She added she understood tunnels dug by protesters would be checked to make sure there was no one inside them.