Medieval priory uncovered in Wombridge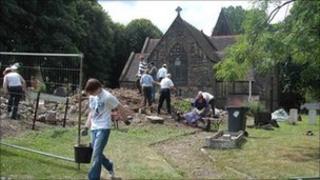 The ruins of a medieval priory have been uncovered in the grounds of a Shropshire church by volunteers.
The Reverend Kevin Evans, of Wombridge Parish Church, Telford, said the ruins had been known about for some time, but had never been investigated.
As many as 50 volunteers have been involved in the dig, helping to clear earth and rubble.
Archaeologist Dr Malcolm Hislop said it could prove "one of the most important medieval monuments in Telford".
Dr Hislop, director of archaeology on the project, said little was currently known about the late-13th Century priory.
He said it would have been used by members of the Augustinian Canon order, who were former priests rather than monks.
"It's terribly exciting," he said.
"This is what archaeology is all about, the sheer excitement of uncovering something."
A bid for £300,000 from Veolia Environmental Trust was turned down earlier in the year.
Mr Evans said the project had been rescued thanks to help from volunteers.