Meeting burglar 'helped' victims recover from crime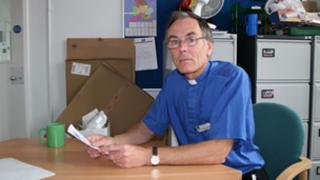 Five years ago, Laura, who now lives in north Shropshire, was burgled while she and her family slept at their flat in London.
The 35-year-old, who did not want to give her full name, said she and her husband became so obsessed with what had happened and that the perpetrator might return, that it put them and their marriage under tremendous strain.
Her husband felt "powerless because he couldn't protect his family" and "became slightly obsessed with finding the person that did it," she said.
The burglar was eventually caught and sent to Pentoville Prison, but even then Laura said she felt she did not "have a voice as a victim".
'Bit insane'
It was only when they were able to meet the burglar face-to-face in May 2007 as part of the restorative justice programme, Laura said they were able to put what had happened behind them and live a normal life again.
Laura said she had felt very secure living in the London flat with her husband and six-month-old son but after the burglary they "went a bit insane".
"Every thought and moment was pre-occupied with wondering whether this person was going to come back," she said.
"This person who had your house keys and knew the layout of your home, knew that you had a very pretty little boy. Knew where you lived. It was just constantly occupying our thoughts. It was an incredibly stressful time."
Of the meeting with the captured burglar she said: "We walked out of there and it was like it had all gone away".
Rehabilitating prisoners
She even received a letter from the burglar thanking her for meeting him.
"I've been haunted by the experience and I hope you can forgive me one day," he said.
Laura now helps offenders at Shrewsbury Prison come to terms with their crimes.
David Farley is the Chaplain at Shrewsbury Prison where he also runs the Supporting Offenders Through Restoration Inside (SORI) courses.
He believes bringing victims and perpetrators together helps towards rehabilitating prisoners.
"It involves those offenders who are willing and wanting to spend a week thinking and looking carefully at the effect of their crimes on their victims. That's not an easy thing to do," he said.
SORI is being piloted in six prisons and Mr Farley believes it should be rolled out across the UK.
He said prisoners were changed by the experience and kept in touch when they left prison.
"We know that lots of those who've been through the course, indeed most of the ones as far as we know have not committed offences again," he said.