RAF Cosford to lose aeronautical engineering college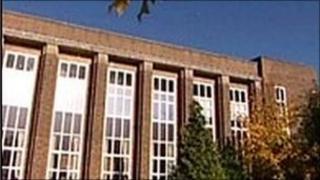 A Shropshire airbase will lose its role as a defence training centre because the Ministry of Defence (MoD) wants to move the service to Wiltshire.
RAF Cosford, near Albrighton, is currently home to the Defence College of Aeronautical Engineering (DCAE).
But on Monday the government announced RAF Lyneham will become a defence training centre from 2013.
The announcement has been criticised by the union representing civilian workers on the Shropshire base.
Robert O'Harney, union representative for the Public and Commercial Services Union, said: "When you look at the facilities we've got at Cosford compared to what's at Lyneham, you'll find they're going to have to invest a lot of money to bring it anywhere near to the standard we've got at Cosford already."
He added the MoD was taking a risk as many staff may decide they do not want to make the move south.
He said there were 1,500 civilian members of staff at nine sites across the UK that could be relocated to one site which he said went against the idea of sharing work out across the country.
'Aggressive' campaign
In a statement the MoD said: "The Defence Secretary confirmed to Parliament yesterday that RAF Lyneham is the preferred location for future defence technical training.
"The Department will withdraw from Arborfield, in Berkshire and Bordon, in Hampshire, releasing the sites for sale by 2014/15 at the latest.
"Work is ongoing to identify the most effective and efficient phased moves to Lyneham which will include the training that currently takes place at the Defence College of Aeronautical Engineering at RAF Cosford."
Four years ago the MoD said it wanted to move the training to St Athan, in South Wales, but the project was axed as part of an expected reduction of up to 8% in the government's defence budget.
'Good news'
Conservative MP for The Wrekin Mark Pritchard campaigned against the move then but he said the situation this time was different.
He said: "If the campaign hadn't been fought so aggressively over the last few years Cosford probably would have been mothballed by now.
He added: "I think there's good news from yesterday's statement.
"While RAF Cosford won't get the defence training college it's likely that move isn't going to take place for the next five to 10 years, possibly even up to 15 years.
"After that what is clear is we will have an Army future for the base which is good news for the local community."