Shropshire Council to dismiss all staff in pay cut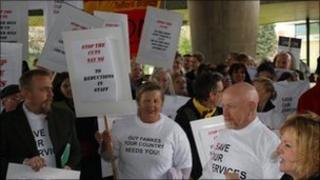 Dismissal letters have been sent to all of Shropshire Council's 6,500 employees.
The letter states that all council staff will be dismissed on 30 September and immediately rehired, but only if they agree to a 5.4% pay cut.
The authority said it had to save £76m due to reduced government funding and pay cuts would avoid it having to make 400 permanent redundancies.
Unison is understood to be balloting its members on industrial action.
Staff who do not accept the pay cut will be dismissed without compensation, the letter states.
'Wrong way'
The blanket dismissal comes after the Conservative-led council and Unison failed to reach agreement over changes to the pay and conditions of staff.
Unison spokesman Alan James said: "We are advising our members to write into the authority refusing the new contracts and do nothing with the proposals which have arrived through the letter box.
"We have some time on this and I think the authority has gone about this the wrong way.
"People are scared and intimidated by the tone of the letter and the way it's been delivered by the authority."
About 40% of Shropshire Council staff are Unison members.
In a statement Shropshire Council said that on 23 June a meeting of the council decided to make changes to staff terms and conditions in order to avoid large-scale redundancies and protect services to the public.
'Dismissal and re-engagement'
It read: "Despite a 90-day consultation period and a series of negotiation meetings, we have been unable to reach a collective agreement on these changes with the trade unions.
"Therefore, council has decided reluctantly, to make these changes by way of terminating the contracts of all current staff and then making all staff an offer of immediate re-employment on new terms and conditions with effect from 1 October."
The council said it was following a legal process in order to introduce the changes to terms and conditions which is commonly known as "dismissal and re-engagement".
The process has been criticised by an industrial relations expert.
Jimmy Donaghey, Associate Professor of Industrial Relations at Warwick Business School at the University of Warwick, said: "While it may be legal it's considered quite bad practice."
He said dismissal and re-engagement was "not common" although Birmingham City Council was in the process of doing a similar thing.
The letters have also raised confusion among staff who said the wording did not make it clear what the options were.
Family life
A Radio Shropshire listener who works for the council said: "I got my letter. There are four options. Three are obvious but the last option makes no sense.
"In my office not one person understands the fourth option and there's no explanation."
One member of staff, who did not wish to be named, said staff were worried about the effect the cuts were having on family life.
She said she would be between £2,000 and £3,000 worse off annually as a result of cuts to wages and expenses.
A 34-year-old worker, who also did not wish to be named, estimated that the pay cut included with the two-year pay freeze, added to increases in the cost of living and changes to public sector pensions could account for as much as 20% of her salary.
She said: "Obviously I feel very unhappy and scared that this can be done and that I could be out of a job come October.
"I feel disillusioned and undervalued and I've really lost trust in the council as an employer."
Another worker said with the pay freeze, cuts and pension changes he was going to lose the equivalent of almost 25% of his salary.
He said: "In my opinion it's not about money, it's about priorities. There's money for new computer equipment, refurbishing offices and redundancy payments to senior staff.
"I think it's about treating staff so badly that they'll leave and they'll avoid redundancy payments.
"I've been here for many years and have never seen morale as bad as it is now."