Shropshire weir could be new source of power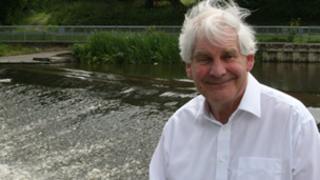 A group hoping to generate electricity from the River Severn has been set up.
Shrewsbury Hydro has completed feasibility studies on the weir in the town and now needs more funding.
Mark Scutt of Shrewsbury Hydro said the scheme should generate between one and a half and two million kilowatt hours of electricity a year.
The work so far has cost £30,000 but another £15,000 is needed to finish the surveys before the planning stage is reached.
Mr Scutt said the initial funding of £30,000 had come from Advantage West Midlands which is now being abolished.
"Shrewsbury Hydro are applying for a grant from another fund called the Energyshare Fund so we can complete the surveys we need.
"A full flood risk survey, a fish pass survey, a protected species survey and so on so that everything is on place for planning purposes," he said.
Owned by residents
Using the River Severn for power is not a new concept for Shrewsbury.
"There used to be, as there have been for thousands of years, water wheels in use. There used to be a very large one down by English Bridge," he said.
Mr Scutt said 1,500m tonnes of water passes through Shrewsbury on its way to the sea dropping 2.5m at the weir.
He estimated using hydro power would save up to 1,000 tonnes of carbon dioxide emissions a year and the equipment would last for a long time.
"What you've got with hydro schemes is once you've put it in it's there for a very long time.
"Like Old Man River it keeps on rolling and keeps on generating power," Mr Scutt said.
He is asking people to register their support for the scheme at the Transition Town Shrewsbury website.
"The important thing about Shrewsbury Hydro is that it will be owned by the residents in Shrewsbury and nearby who wish to subscribe for shares in it. There will also be a local community fund set up to use some of the income from generating electricity," he said.
It is not yet known how much it will cost to install the turbines needed to generate electricity but Mr Scutt believes they will pay for themselves in 20 years through the government's renewable energy scheme called Feed-In Tariffs.