Demand for emergency food increases in Shropshire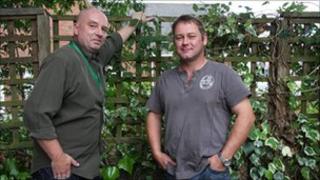 Food parcel schemes in Shropshire are expanding to meet increasing demand for help from people who cannot afford to buy food.
The charity Bromford Support said the need for food parcels in south Shropshire had doubled. A food bank is now being set up in Oswestry, north Shropshire.
The free parcels are donated to people struggling to buy food and include basics to last three or four days.
Gill Richards who is setting up the new scheme in Oswestry said there was a "real crisis" with changes to benefits.
The Reverend Jon Edwards, a volunteer who distributes food parcels in Ludlow, said: "Jobs are hard to come by and it's tough - prices are going up and going up some more."
'Squeezed nation'
The emergency food parcel scheme in south Shropshire was set up about seven years ago by Churches Together Around Ludlow and is run by Mr Edwards from Ludlow Baptist Church.
Mr Edwards said they gave out 35 parcels in 2008, that rose to 50 in 2009, and rose again to 72 in 2010.
According to Mr Edwards most would be single parcels going to individuals or families, while occasionally one family would get up to about four in a year.
Bromford Support, part of the Bromford Housing Group, helps people with debt and housing problems in south Shropshire.
Ian Chatfield, a housing support officer with the charity, refers clients in crisis to Mr Edwards.
Last year Bromford Support referred 11 people or families for emergency food, while this year the charity has already referred 10.
Mr Chatfield said even a rural town like Ludlow, with its reputation for Michelin-starred restaurants, had people who are desperate.
"Everybody's hard pressed at the moment. They talk about the squeezed middle but it's the squeezed nation, I think," he said.
In a typical case someone on a low income who has their benefit cut or suspended, then faces a sudden drop in income.
Food parcels help such families to bridge the gap.
Without food
Calvin Cornes from Bridgnorth had a breakdown in 2008, when his double glazing business collapsed and he broke up with his partner.
The 45-year-old said after deductions from his benefits he was left with £45 a week to live on.
He said he would go for three days at a time without food or electricity.
There were also times when he could not have his two children to visit because he could not afford to feed them.
He said: "There were times when I went hungry myself to feed my kids and there were times when I had to phone my ex partner and say I can't have them, because I haven't got any food, electric or heating."
Mr Cornes said he was referred for food parcels, and relied on them in 2010.
"With having the food parcels I could still have them every other weekend, which was quite crucial really to my recovery - to keep having my kids and to keep me going really."
Mr Cornes said that without food parcels, he could not have carried on.
"I think they're fantastic, and actually when I'm ready I'd like to look into the Bridgnorth and surrounding area and try and support people with food parcels.
"I'd love to do that because of the help I've had. It's got me through a tight spot and without it, well, I'd hate to think really.
"I would like to help people myself - I mean - there are people going hungry."