Supermarket plans for Oswestry Smithfield site approved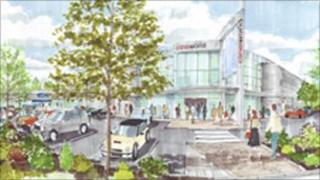 Plans for a new out of town supermarket development on the site of Smithfield Livestock Market at Oswestry have been approved.
Outline plans for the complex were passed last year but were delayed while financial negotiations with Oswestry Town Council were finalised.
The Smithfield project was one of four submitted to Shropshire Council and was supported by the town council.
Work could begin in 2013.
As well as a supermarket, there will be a new cinema, restaurants, a petrol station and offices.
The livestock market - which will share the site with the retail development - will also be refurbished.
The developers, Liberty Mercian, said the scheme would cost £56m and create up to a thousand jobs.
Shropshire Councillor, Steve Davenport (Conservative), said the new development would benefit Oswestry.
"It will stop people migrating to Shrewsbury and Wrexham and keep people within the town and also bring in people from the surrounding villages into Oswestry," he said.
He said there would be a free park and ride scheme to encourage people to use the town centre.
It is not yet known which supermarket will be based there.
'Not over yet'
Jessie Miller, spokeswoman for Oswestry 21, a community group set up to oppose the Smithfield plans, said: "We are really disappointed.
"We had hoped the committee would look at the agreement [with the town council] that they were discussing and see that it's really not good enough.
"Our concern is that it's going to draw trade out of the centre and people will go there, park for free, shop and then drive home again. We're very concerned about what that's going to do to the trade in the town."
She said Oswestry had enough supermarkets already and the fight against the Smithfield development would go on.
"It's not over until it's up and even when the new supermarket is up our job will be to help promote the town centre and tell people what's going on in the town centre and just make sure people know it's still there," Ms Miller said.
The group also objected to the three other schemes proposed for the town centre car park, the site currently occupied by car dealer, J T Hughes and Guttercrest on Victoria Road, on the outskirts of the town.