Shrewsbury murderer Robin Ligus 'admitted other killings'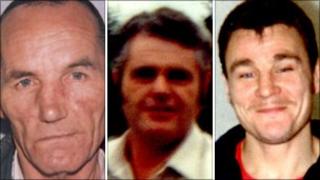 A man convicted of murdering a pensioner in 1994 confessed to inmates and officers that he murdered three other men, a court has heard.
Robin Ligus, 59, is serving a life term for the murder of Robert Young during a burglary at the 75-year-old's home in Shrewsbury.
Last year he was charged with the murders of three men and last month was judged unfit to enter a plea.
A trial of facts has begun at Birmingham Crown Court.
Drug addiction
Ligus allegedly told a psychologist and his cell-mate that in the same year he killed Mr Young he also killed Trevor Bradley, 53, Brian Coles, 57, and Bernard Czyzewska, 36.
In his opening on Thursday, prosecutor James Curtis QC said it was up to the jurors to decide whether the father-of-three was a "serial killer or just a serial confessor."
The Crown claimed that Ligus, from Middletown Square, Shrewsbury, was a heroin and cocaine user and had committed the crimes to obtain money for his drug addiction.
He allegedly hit Mr Bradley on the head before setting fire to his car in Melverley where his body was found in April 1994, the court heard.
Mr Coles' body was discovered six months later following a burglary at his home in Higher Heath, near Whitchurch and Mr Czyzewska was thrown into the River Severn in Shrewsbury in November of that year, the QC said.
In 1995 Ligus confessed the killings to his cellmate, the court heard.
He then "confessed in full" during a formal police interview in January 2000, but owing to some inconsistencies in his account, no charges were brought against him for the three unsolved murders, the prosecutor said.
Mr Curtis added: "When he confessed in detail to the various crimes to a number of other people, including in a formal interview to the police, Mr Ligus was demonstrably well and in command of his faculties."
New evidence has emerged including further confessions made by Ligus and the exhumation of Mr Bradley's body.
Ligus had a stroke in 2006 and was charged last autumn but has recently been judged unfit to be tried for murder.
The jury has been asked instead to decide whether Ligus unlawfully killed the three men.
The trial of facts continues.