Blaze badly damages Mullins heating firm in Shrewsbury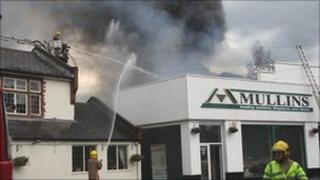 A heating system company whose showroom was badly damaged by fire will be operating on Monday, staff say.
The roof of Mullins heating systems on London Road in Shrewsbury was destroyed by the fire which started at about 1400 BST on Friday.
London Road and Wenlock Road were closed on Saturday morning while gas cylinders inside the building completely cooled.
Employee Darren Peel said they would be operating from new premises by Monday.
"Hopefully, the good thing is the business can survive this. We'll get arranging to get some new premises at the beginning of the week so we can carry on trading."
Dozens of firefighters were called to the fire, which is not thought to be suspicious.
Six fire engines were called to the scene and a nearby pub was also evacuated, a spokesman said.
John Ball, one of the company's surveyors, said they do not know how badly damaged the building was but said it was "substantial".