Florida picks Shropshire 'projector' artist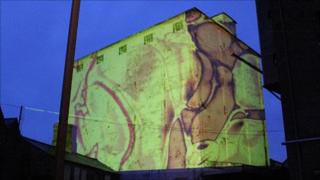 A Shropshire digital graffiti artist who projects his "paintings" on to buildings is the only UK finalist at a major US art festival.
Andy McKeown, from Shrewsbury, has been shortlisted in the final of the 2011 Digital Graffiti Festival at Alys Beach, in Florida, on 8 June.
Mr McKeown's Kaleidoscopia, featuring changing images, has been chosen for the festival.
He describes his craft as "painting with light".
Mr McKeown said he was disappointed not to be able to attend the festival because of commitments around the UK.
"It's the best digital graffiti show on the planet," he said.
"Last year there were five British artists in the festival. This year I am the only finalist.
"Digital art is known as photon bombing or guerrilla graffiti in the USA."
It is the fourth year that the festival has been held at Alys Beach and Kelli Arnold, the town's events co-ordinator said the town was treated as a blank canvas.
Olympian Festival
She said: "Ultimately Digital Graffiti explores how design, technology and architecture can intertwine to create entirely new art forms.
"For one evening Alys Beach opens its doors, courtyards and pedestrian paths to innovative companies and ground-breaking artists who fuse these three components to literally transform our entire town into a living work of art."
In 2008, Mr McKeown won a national competition to create a new feature for Blackpool Illuminations.
He has also projected on to the Flaxmill at Ditherington in Shrewsbury and is creating a light show for the Shropshire Olympian Festival at the Quarry in Shrewsbury in June.
Using what he calls "Kaleidoscopialive" , he is inviting people to submit pictures of themselves for use in the Florida show.
He said: "Anyone can participate and be part of my light show.
"They can upload their pictures using the software on the site and they can be part of the illuminations, hopefully in Victorian costume."