Six-year-old golfer qualifies for US tournament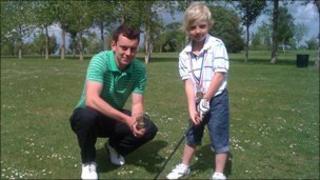 Six-year-old Sam Gwilliams from Shropshire has qualified for an international golf tournament, just weeks after taking up the sport.
After being named runner-up at a regional competition, Sam now has a chance to compete in the Junior World Championships in San Diego, in the US.
Former winners of the tournament include Tiger Woods and Ernie Els.
Jack Roberts, who now coaches the six-year-old, said he had "never seen anything like it".
The youngster's ability was discovered when Sam's parents bought him a golf club to play with, after watching the golf comedy film Happy Gilmore.
"We've got a third of an acre of garden and he was hitting it over the fence at the back into a field, and hitting it quite straight," Sam's mother Alison said.
Just before Easter Sam started going to the nearby Arscott Golf Club, where he quickly made an impression.
Mr Roberts said the youngster was "improving every time".
The Junior World Golf Championships in California is the largest event of its kind, featuring competitors from more than 50 countries.