OsFest celebrates local talent and top UK acts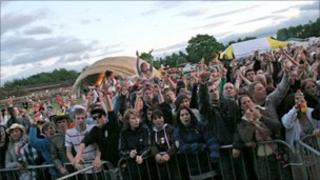 Shropshire musical talent will line up alongside some of the UK's top acts this Spring at the 2011 OsFest.
The three-day festival, now in its second year, launches on Friday 27 May with Radio 1 DJ Jaguar Skills.
Popular local bands and artists will play throughout the weekend, including Dai Robs, Colour Sunday, Revurb, The Taste, Shameless Faith and Blindsyde.
About 5,000 people are expected to attend the family festival at Oswestry Showground.
One of the OsFest organisers, Carly Jackson said: "We had some great feedback. We're doing a lot more for families this year."
Artists appearing over the weekend include Tinchy Stryder, The Feeling, Example, Goldie Lookin Chain, Agro Santos, Missing Andy, Labrinth, Boomtown Rats and The Jam, led by Bruce Foxton.
BBC Introducing in Shropshire will be broadcasting live from the festival from 7pm on Friday 27 May.