Shropshire vet suspended over TB test claim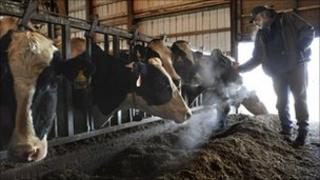 A Shropshire vet has been suspended for 10 months for falsely claiming he tested cattle for TB, The Royal College of Veterinary Surgeons (RCVS) said.
John Owen-Thomas, of Teme Veterinary Practice, was charged with dishonestly certifying that all the cattle on a farm had been tested for TB.
He admitted the charges at a two-day hearing by the RCVS.
The charges relate to a farm visit made by Mr Owen-Thomas in September 2009.
Mr Owen-Thomas admitted he knew he had not tested all of the herd and he had failed to adequately identify the cattle he had tested.
He also admitted failing to measure the skin-folds of all the animals, and to entering false information into the national cattle-tracing recording system about the reaction measurements he had taken.
Chance conversation
Mr Owen-Thomas visited the farm while working as an Official Veterinarian (OV) for Animal Health, an executive agency of the Department for Environment, Food and Rural Affairs.
He was asked to carry out TB testing on 248 cattle, following the discovery of TB reactors in the herd.
But the RCVS said he did not check the animals' ear-tag numbers or make any notes about the individual animals he was testing, as required by Animal Health procedures.
An RCVS spokesman said when Mr Owen-Thomas was checking for test reactions he only measured cattle on whose necks he felt a lump, when he should have checked them all.
The spokesman said despite this, skin thickness measurements were entered into the records for all 248 animals.
The matter came to light during a farm visit from Animal Health after a chance conversation with the farmer.
'Unacceptable nature'
The spokesman said Owen-Thomas then admitted he had not tested all the cattle as recorded.
Beverley Cottrell, chair of the committee, said: "On previous occasions the committee has emphasised the importance of the integrity of the certification process.
"The validity of any certificate is an integral part of the system relating to disease control and the maintenance of public health."
She added: "However, the committee considers that Mr Owen-Thomas's prompt admissions demonstrate insight into the unacceptable nature of his actions."