Taxi drivers in go-slow protest in Shrewsbury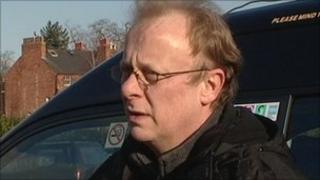 Taxi drivers have staged a go-slow protest in Shropshire over a proposed change in licensing laws.
The driver said that the plans mean more drivers from anywhere in the county could operate in Shrewsbury.
Richard Price, from Shrewsbury Drivers Action Group, said it will mean an influx of drivers without local knowledge.
Shropshire Council said it was trying to introduce a "safe, consistent and fair standard" across Shropshire.
Councillor Rosanna Taylor-Smith, chair of Shropshire Council's strategic licensing committee, said: "When the districts, boroughs and county councils all joined to become Shropshire Council in 2009, there were significantly inconsistent approaches to taxi licensing within the county.
'Not fair'
"To give all taxi users the assurance of a safe, consistent and fair standard across Shropshire, the council is looking at ways to provide this regular approach."
But Mr Price said the plans were not fair.
"We want to retain our black livery, we hope to retain local knowledge for drivers and are hoping to prevent a fare increase for the customers of our town.
"The protest will raise customer awareness and public awareness of what is going on and what the council is forcing on us.
"It's not fair. It will mean an influx of drivers with no local knowledge who won't offer a service the public expects."
A council spokesman said a consultation about the plans was ongoing and no decision has been made.