Dead dog found in bin bag near Shifnal railway station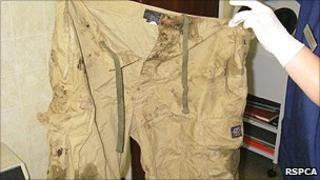 A dog's body has been found wrapped in a pair of shorts in a bin bag near a Shropshire railway station.
The cavalier King Charles spaniel was found in Shifnal in an "appalling condition", severely underweight and with matted hair, the RSPCA said.
The elderly female dog was discovered on a drive near a station car park on Wednesday morning.
Vets estimated the dog had died at least 12 hours earlier, but no more than three days ago.
'Several weeks'
RSPCA inspector Jackie Hickman said: "This was a terrible discovery for anyone to make but what shocks me more than anything is the dog's condition.
"This animal has suffered for several weeks before death and we must find out who was responsible for allowing their animal to get into this condition.
"I truly believe someone locally will know who this dog belonged to."
There were lots of clothes in the bag and the dog's body was wrapped in a pair of tan-coloured shorts, the charity said.
The animal was found by a member of the public at 0830 GMT on Wednesday.
The RSPCA said all calls received were treated in the strictest confidence.