Ludford Bridge masonry falls into River Teme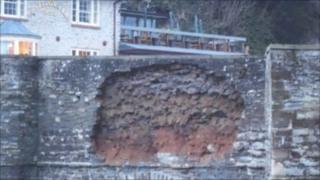 Masonry from the supporting wall of an ancient bridge in Shropshire has broken off and fallen into a river.
The B4361 road in Ludlow is closed over Ludford Bridge, which partially collapsed on Tuesday. No-one was on the bridge and there were no casualties.
Shropshire Council said frost heave may have destabilised the ancient monument, which was the site of a famous battle in the War of the Roses in 1459.
The bridge will be closed to traffic for repairs for up to four months.
Masonry from one of the walls supporting the road above the bridge's central arch broke off and fell into the River Teme on Tuesday afternoon.
Reopening plans
Engineers assessed the bridge on Wednesday and said it would have to remain closed to traffic while repairs were carried out, but they hoped it would reopen to pedestrians and dismounted cyclists on Wednesday afternoon.
Shropshire Council will liaise with English Heritage throughout the design and repair of the scheduled ancient monument.
Canoeists and other river users are advised to avoid going underneath the bridge's central span in case further material falls from the bridge.
Martin Taylor-Smith, Shropshire Council's cabinet member for transport and IT, said: "It is appreciated that the closure of the bridge to traffic will cause inconvenience and every reasonable effort will be made to complete the work and reopen it to traffic as soon as possible."