Ironbridge Gorge flood exercise carried out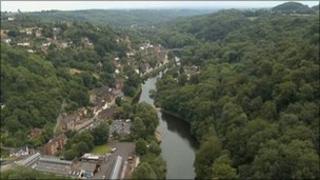 Emergency services and the military have been taking part in exercises based on flooding and landslips at the Ironbridge Gorge.
Telford and Wrekin Council in Shropshire has spent more than £16m in recent years tackling instability in the Gorge.
Residents were recently sent information telling them what to do in the event of landslides.
The council said the exercise was in the "unlikely event" of a landslide.
It focussed on a flooding scenario in the Gorge with students from the nearby New College attending a makeshift rest centre at Oakengates.