Cuts may lead to school closures in Shropshire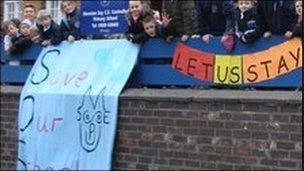 The Shropshire Council leader has said some schools in the county may have to close as a result of spending cuts.
Keith Barrow told a cabinet meeting difficult decisions were needed during tough financial times, adding: "We have to accept that some schools may close".
The Conservative-run council must save £76m over four years, £16m more than it planned before the Spending Review.
The council said it would consider how schools in 16 catchment areas were performing against a set of criteria.
The council's cabinet was reviewing a consultation on the future of schools in the county which was carried out over the last four months.
It revealed "data packs" would be sent out to all primary and secondary schools in the 16 catchment areas on Friday.
The council agreed on the criteria which would identify problem areas following the consultation. It is understood to include surplus places and schools' performance.
The consultation looked at the future of education in Shropshire and aimed to tackle a million pound hole in the education budget and falling pupil numbers.
After the meeting, David Taylor, of the council, stressed that there was not a secret list of schools which had already been earmarked for closure.
The council said it was looking at schools area by area and the next stage would involve working closely with schools, communities and partners to look at the challenges.
"They will join together with the council to look at what is currently provided, the pressures they face and options for change which best suit each area," a spokeswoman said.
The cabinet's recommendations will be considered further at the full council meeting on Thursday.
Plans to close 22 schools across the county were shelved after protests by hundreds of parents, teachers and pupils in January 2008.
Related Internet Links
The BBC is not responsible for the content of external sites.