Swine flu misdiagnosis girl died from natural causes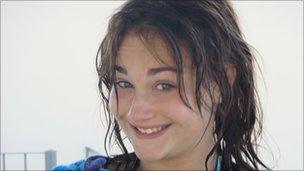 A Shropshire teenager suffering from tonsillitis who was wrongly diagnosed with swine flu died from natural causes, an inquest has heard.
Charlotte Hartey, from Oswestry, died from complications arising from tonsillitis after being diagnosed with swine flu over the phone last July.
The bacterial infection she had was "highly, highly, highly unusual", pathologist Dr Kenneth Scott said.
The coroner said a correct diagnosis could have meant a different outcome.
Coroner John Ellery recorded a narrative verdict at the inquest in Shrewsbury.
He said he would write to the chief executive of the NHS in Shropshire to ask for a report into the death to be circulated among staff.
Shropshire County Primary Care Trust (PCT) has been reviewing the case.
Steve Evans, clinical director at Shrewsbury and Telford Hospitals Trust, said it was a tragic case of a young girl being overwhelmed by a an "extremely rare" bacterial infection.
But accepted there were some aspects of her care that "could have been improved" however and said lessons had been learned from the review into her death.
Dr Scott, who carried out the post-mortem examination, told the inquest on Wednesday that he found no signs of swine flu but confirmed Charlotte died after complications arising from tonsillitis.
The bacteria caused abscesses in her lungs, impairing their function and causing a severe chest infection.
He said the bacterial infection was one he had never come across before.
But he added that "with a correct diagnosis, the correct antibiotics and the correct dosage, given early enough, the outcome could have been different".
Dr Michael Arthur, the GP who prescribed Tamiflu, told the inquest on Wednesday he conducted a phone consultation in accordance with NHS guidelines when swine flu was sweeping the country.
He said Charlotte's symptoms, which included a sore throat, runny nose and persistent cough, were "strongly suggestive" of a virus, rather than an infection.
Two days after Tamiflu was prescribed another doctor visited her at home and agreed with the swine flu diagnosis but also prescribed antibiotics.
He visited her again on 28 July and took a blood test which revealed a high white blood cell count, indicating a serious infection.
By the time she arrived at hospital, Dr Scott said Charlotte was "extremely ill" and it was unlikely she could have been saved.
Related Internet Links
The BBC is not responsible for the content of external sites.