Bravery awards over Shrewsbury fire rescue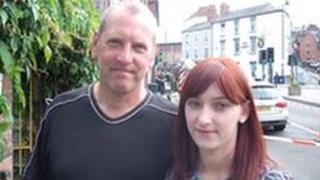 Two firefighters who saved the live of a Shropshire woman in a house fire are being rewarded for their bravery.
John Bee and Richard Brazier carried Laura Smith out of her bedroom after her family home in Severn Street, Shrewsbury, caught alight.
Mr Brazier said it was the most dramatic rescue of his 18-year firefighting career.
Ms Smith was treated for smoke inhalation but was otherwise unhurt in July's incident.
Choking black smoke
Fire crews called to Ms Smith's home during the early hours of 9 July said the living room and kitchen were well alight when they arrived with flames also engulfing staircase spindles and a banister.
There was choking black smoke throughout the house, they said.
The two firefighters put out the flames in the living room while heading for the burning staircase which they put out as they went upstairs.
Ms Smith was carried out of her bedroom by one firefighter as the other protected them with the hose as some flames had reignited.
The firefighters then went back into the house for her brother, Sam, but he escaped the fire by jumping from a window.
The two firefighters will receive bravery rewards form Chief Fire Officer Paul Raymond.